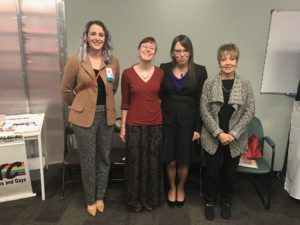 We had an amazing panel participate in the Question and Answer session after the National Geographic Gender Revolution screening on March 26th at LikeMeLighthouse!
Kathryn Boman completed her Masters of Social Work at the University of Missouri-Kansas City in 2016 and is a licensed social worker working in Kansas and Missouri. Kathryn's professional purpose is to provide services with compassion and kindness while focusing on empowerment, social justice and advocacy.  Kathryn's personal pronouns are she/her/hers.  She works at Children's Mercy Gender Pathway Services Clinic.
Fiona Nowling is originally from England and moved to Kansas to marry her wife, Una, a transsexual woman over 14 years ago.  Since then, she has led the SOFFA group for four years, spoken at conferences and in schools, co-hosts Trans Talk, an episode of the Tenth Voice on KKFI, sings with Transfinity KC and is on the board of the LGBT employee resource group at McKesson, where she works as a software engineer.
Una Nowling is an out and proud transgender historian and activist who hosts the Trans Talk radio show on 90.1 FM KKFI, along with her wife, Finoa.  She is the director of studies at the Transgender Institute and the researcher behind the website transascity.org.  In her day jobs she is the chief engineer for combustion at Black & Veatch and a professor of mechanical engineering at UMKC.
Nancy Simons Bean is a licensed clinical social worker, Director of Adoption & Counseling Services for Families, Inc., an agency that is licensed by the states of Kansas and Missouri.  She is licensed at a clinical level in both Kansas and Missouri as a social worker.  Ms. Bean has been involved directly in working with families and children in therapy and consultation since her early days in the Child Psychiatry Department at K.U. Medical Center and later at the Johnson County Mental Health Center.  She has extensive training in family system theory, which guides her practice.  Nancy began her work in the adoption field in 1983, when her agency was licensed, and for over 30 years has worked with adoptive families.  She has worked with families of the gay and lesbian community to support them for the entirety of her adoption practice.  Nancy has been on the Board of Modern Family Alliance (formerly Midwest Alternative Alliance) since its inception in 2005.  She supports LGBTQ youth and adults and families headed by LGBT parents and their families, as we learn more about how to respect and nurture all people.  Nancy appreciates all that she has learned over the years from the clients that she has served, especially the children of adoption.  That information enhances the work that she presently does.